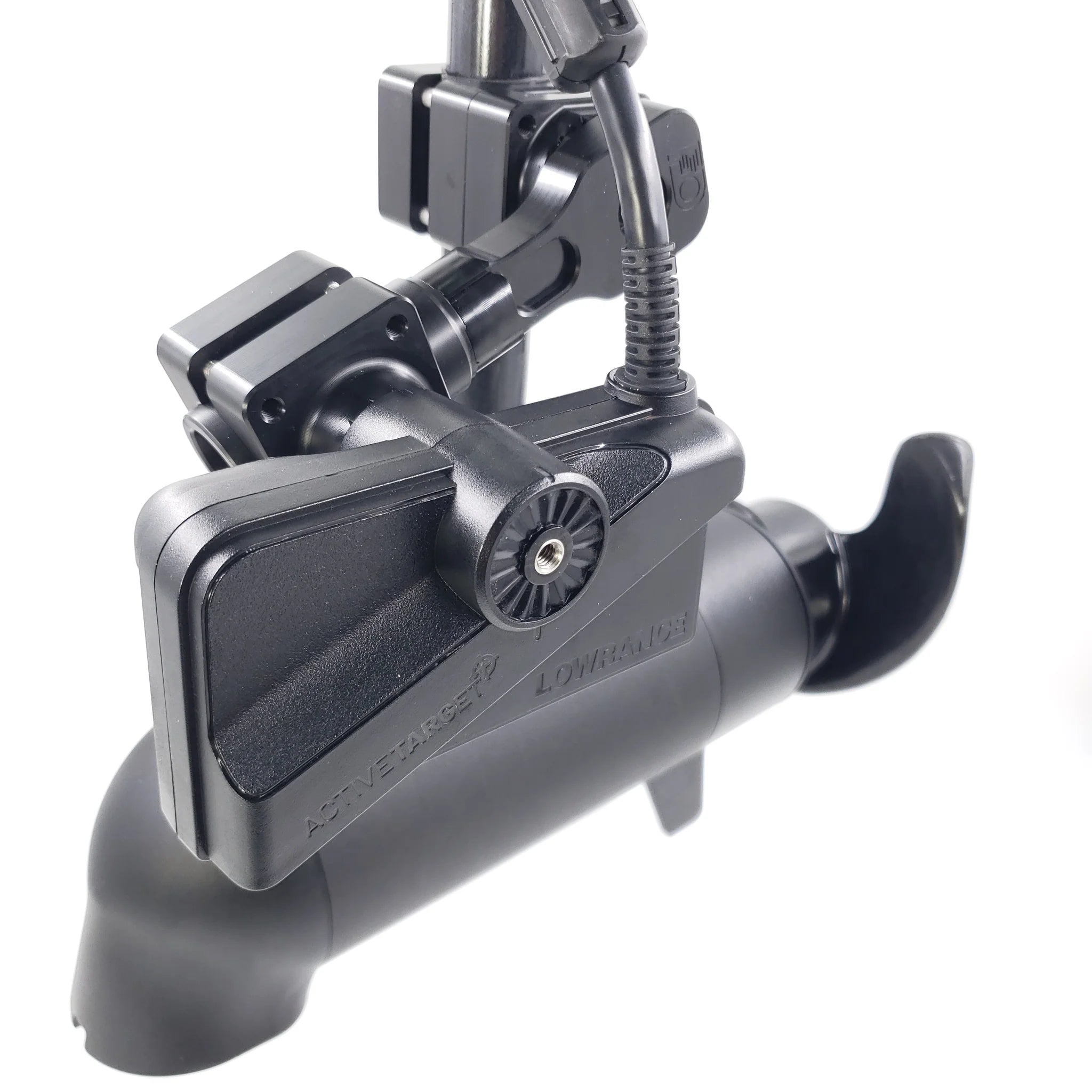 DOMINATE the water and take your fishing to the highest level with the most versatile and innovative Active Target zero-degree trolling motor mount available on the market.  We married the original Dominator, our zero-degree mount, and now included our FO-LINK-1375-1 extension block system to put together an adaptable trolling motor mount like none other. Trolling motor shaft mounting port or starboard configuration compatible.  Change between forward, down, and scout view modes with ease.  Transducer install height issues?... no problem! Utilize the F.O. Link spacer system to avoid trolling motor interference due to limited install height restrictions and fully customize your trolling motor needs.    Offset your transducer at the shaft or the transducer for the clearest live imaging pictures available.  Eliminate the guesswork and confusion on plug and play components.   For use on trolling motor shafts from diameter range 1.125" - 1.375".    Fully loaded and ready to go fishing Dominator style!
Scout view:  The scout mounting bracket with integrated ratcheting adjustments allows for more time fishing and less time aligning your Active Target views; all while keeping your transducer straight forward and vertically aligned. Allows for multiple starboard and port mounting configurations for all types of mounting styles.  Designed to be the fastest multi-function mount that has the capability of converting forward/down view to scout view in a variety of different configurations.   Ratcheting motion allows the user to quickly tune their scout view sonar images for varying water depths.  Quick view changes with total beam coverage will have you back to Fishing in seconds!
Forward view and down view:  The zero degree/straight clamps that we offer corrects the transducer geometry problem associated with the offset clamp that came with the Active Target kit, allowing you to have your sonar image, GPS position and transducer targets lined up.  This improves the accuracy of your readings in vertical and forward/downward mode, making it simple and intuitive to get on the fish you are seeing as well as locate your lure or bait on the sonar screen.

Quickly move from forward, down, and scout mode

Port or starboard mounting capable
1-1/8" to 1-3/8" clamping capacity
Fully CNC machined from bar stock
Better than the competition's hollow 3d printed parts that can crack and break
Proudly made in the U.S.A by Fish Obsessed machinists with a Lifetime Guarantee!